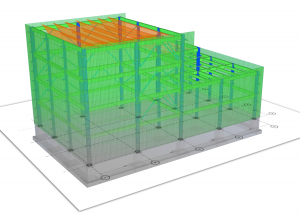 "It was apparent in the late 90's that the future of design and drafting would be moving from 'the board' or 2D Acad and would shift into a more complex and robust system of construction and trade management. Global was formed to be a leader with this in mind" says Global's President Matthew Bastura. From a 3 person office in 2000, Global now operates 30 Tekla Structures 3D (Tekla) stations in multiple offices. Mr. Bastura adds "3D Modeling software was in its infancy in 2001 when we looked at committing to a software. Tekla (XSteel at the time) was chosen by us in 2002 after multiple trials of other software. Tekla stood well above all the rest in where we saw the industry moving. This has proven to be the right decision with Tekla's launch of BIMsight in the last few years, the first and only true construction industry platform of model management & coordination."
Global has completed multiple BIM & Design Build projects for various clients in both the commercial and industrial sectors across North America, one of which was featured in Modern Steel Construction (Brigham Young Universities – Idaho Auditorium & Recreational Facility). The use of BIM Model Management between Steel & Concrete (Pre-cast, Cast in place & Masonry), allowed for the massive 258' auditorium trusses to have the embeds in the precise locations required.
Mr. Bastura states "Our latest BIM project was a 3 year >32,000 hour industrial project for Encana Gas with roughly 4500MT of steel. Model imports and coordination between civil, piping & grating made erectablility issues/clashes with the steel foreseeable and we were able to accommodate the steel to suit, saving time and overall cost on the project." Mr. Bastura notes there will still be a lot of transformation in the construction industry in the future with more trades moving to modeling software and true model collaboration with virtual project imaging.
Global Structural Detailing Ltd. provides all BIM related services such as 3D Modeling (Currently Steel, Concrete, Rebar & Light Gage), Model Management & Model Hosting.
Whether your project is Industrial, Commercial, Institutional or Residential – if it requires steel – our experienced staff will provide complete, accurate and on-time design and drafting services. Global Structural Detailing Ltd. is firmly committed to customer satisfaction!